Condición: Seller refurbished
Categoría: Cell Phones & Accessories:Cell Phones & Smartphones
Descripción del producto:
Powered by
Frooition
Home About Us Shipping Returns Contact Apple WatchesGoogle PixelsApple AirPodsSamsung GalaxyApple iPhonesLGUnlocked Cell Phones Apple iPhone 8 Plus Smartphone AT&T Sprint T-Mobile Verizon or Unlocked 4G LTE










Item Description Technical Details Technical Details About our Devices Payment Shipping Warranty Technical Details"Build your own" phone in this listing by choosing from the following specifications:
Model:
Apple iPhone 8 Plus
Network Options:
Choice of GSM Unlocked, AT&T Locked, T-Mobile Locked, Verizon Locked, or Sprint Locked
For more information about networks, please see the "About our Devices" tab.
Storage Capacity Options:
Choice of 64GB or 256GB
Color Options:
Choice of Space Gray, Silver, Gold, or Red
Cosmetic Condition Options:
Choice of Excellent (A), Good (B), Acceptable (C), or Poor (D)
Included in your Package: A pre-owned device, a generic wall charger, and cable
Not
Included in your Package: A SIM card, original retail box, or original accessories
Device Features
Touch Screen Smartphone 12MP Dual Camera Resolution 5.5" Screen 3GB RAM Hexa Core Processor About our Devices About our DevicesSupplytronics takes quality seriously. We know how important it is to you that your device functions perfectly, is able to be activated with your network, and arrives in a cosmetic condition that meets your expectations. Our industry-leading testing procedure, carried out by our trained team of professionals, ensures consistent quality with every device that we sell.
Functionality
Purchasing from us means your pre-owned device has been professionally tested and refurbished for full functionality. Please note that we do not guarantee any water resistant functionality on these phones.
Activation with your Network
Our devices are compatible with the Network chosen from the drop-down menu in the listing. Any pre-paid, 3rd party, or networks outside of the United States may or may not work with our devices depending on the original owner.
GSM Unlocked:
The device has been unlocked and can be activated on any GSM network such as AT&T or T-Mobile.
Verizon Factory Unlocked:
The device can be activated on Verizon and all GSM networks.
Locked:
The device can only be activated on the chosen carrier. Examples include: AT&T Locked, T-Mobile Locked, Sprint Locked, Verizon Locked, etc. Clean ESN/IMEI: Every device in the world has a unique identification number called the ESN/IMEI that is used to activate your device with your network plan. We ensure that this number is clean when tested and not currently in use on someone else's plan.
Cosmetic Condition Descriptions
A: EXCELLENT COSMETIC CONDITION: Little to no scuffs or scratches B: GOOD COSMETIC CONDITION: Medium scuffs, scratches, or small dents that could be covered with a case C: ACCEPTABLE COSMETIC CONDITION: Heavier and more pronounced scuffs, scratches, and dents D: POOR COSMETIC CONDITION: Deep scratches, denting, discoloration, and or/some other unrepairable physical issue
Payment PaymentWe accept all major credit cards at time of checkout. Shipping ShippingWe know you want your order as fast as possible! We upgrade all of our orders to USPS Priority Mail
for free
with tracking information provided the day of shipment. This means your order will arrive within 4 business days in the Continental U.S. If an order is placed Monday - Friday before 2 P.M. CST, it will ship out that same day! Once you receive your shipment confirmation, e-mail us if you would like the IMEI/ESN of your device and we will provide it to you. For customers outside the United States, we ship using the eBay Global Shipping Program, ensuring you receive your device within 2-4 weeks depending on your country. Warranty WarrantyPurchase with confidence knowing that we have a 30 day warranty! We are happy to provide a pre-paid USPS return label so you may return your phone for a free repair within 30 days. If it is determined that an issue cannot be repaired, a full refund will be processed instead. Return shipping cost is not covered for Global Shipping Program returns or orders where the device was taken out of the United States after delivery.
We love helping out our customers! If you have any questions or concerns at all please don't hesitate to contact us. More Items!View more great items

Apple iPhone 8 Plus Smartphone No Home Button Function AssistiveTouch Only$165.00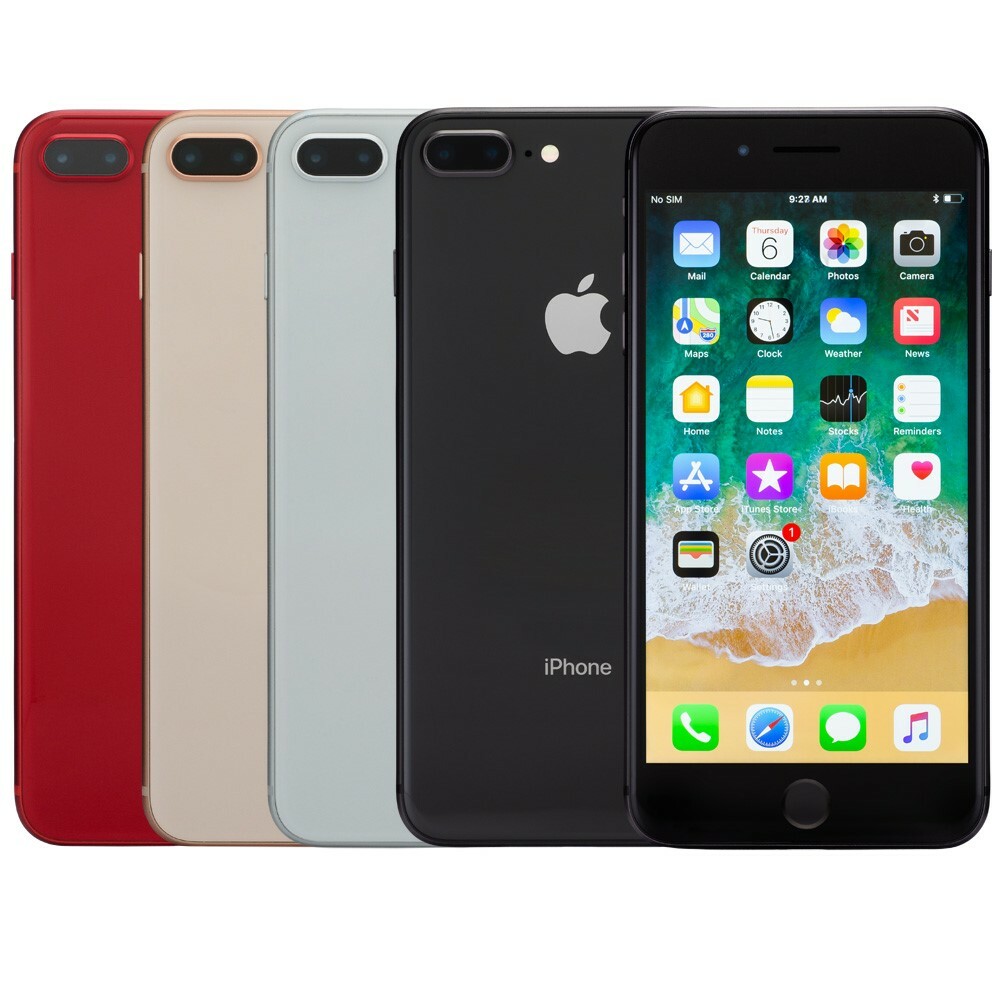 Apple iPhone 8 Plus Smartphone 64GB 256GB Cricket Metro TracFone Xfinity 4G LTE$231.00

Apple iPhone 8 Plus Smartphone 64GB 256GB Factory Unlocked 4G LTE WiFi iOS $280.00

Apple iPhone 8 Plus Mint Condition AT&T Sprint T-Mobile Verizon or Unlocked A+$318.00 Powered by
Frooition
Frooition Frooition | No-js Template | eBay design, eBay store design, eBay shop design, eBay template design, eBay listing design (ver:froo_no_js) This listing is currently undergoing maintenance, we apologise for any inconvenience caused.

Powered by SixBit's eCommerce Solution